8 Best DIY Christmas Basket Ideas
Need to get some inspiration about Christmas gifts? And you don't want to give loved ones ordinary gifts, please take a look at these amazing DIY ideas! 
You can create a totally personalized gift for your loved ones with these DIY Christmas basket ideas. Buy a candle set for your Mom, and a coffee set for your Dad, or create hostess gifts for your friends who invite you to the Christmas parties in their home. No matter what you're looking for, here's the right place!

Flavored Spice Gift Basket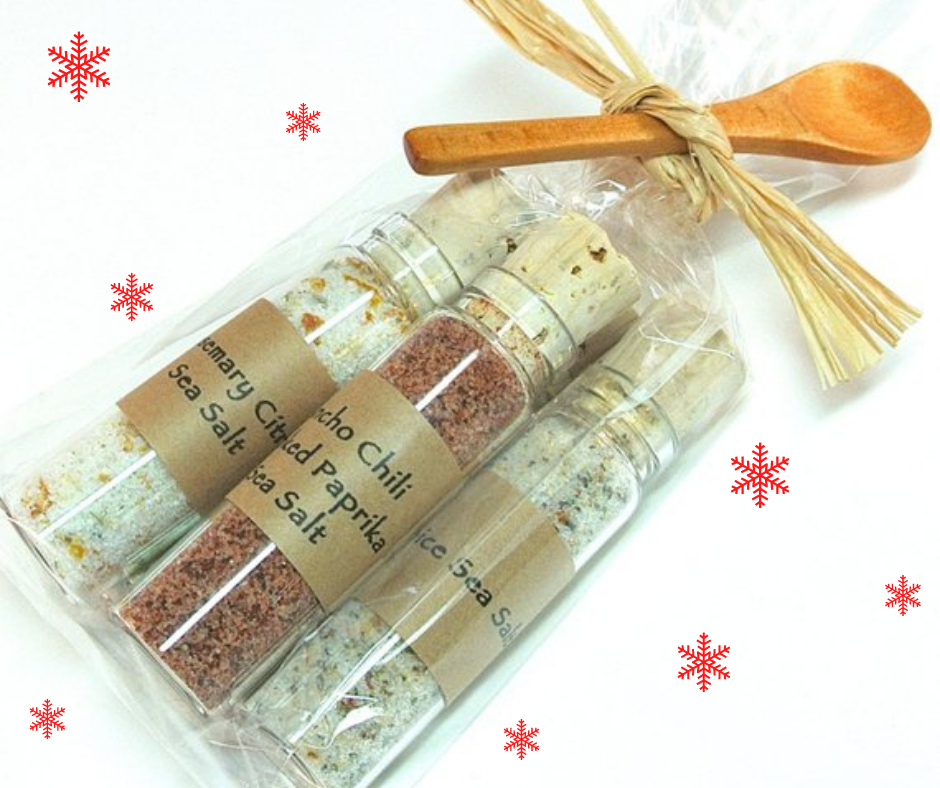 Everyone loves cooking! And the spices are a must for cooking esspecially salts, give them a very useful gift with these amazing spices. Perhaps you can fill the jars with homemade spices, or you can buy them from your local store. It will definitely make a meaningful Christmas gift!
Fill your jars with different spices, placed in metal boxes or any kind of boxes can be used. Need some decorative touches for the box? Complete the gift with the newspaper strips on the bottom of your box.
More Products
Cookie Baking Gift Basket
It would be great to have a tasty start to the New Year! This gift includes kitchen products and decorations for your favorite baker needs to create amazing cooking and cakes! You can add whisks, serving plates, measuring tools, maybe some flour or chocolate to the basket.
Cover metal tray with linen cloth, then fill it with the other kitchen products!  Kitchen utensils, egg shell opener, and measuring cups will complete each other very well. Don't forget to add the embossed rolling pin, which is a must for Christmas cookies! Wouldn't it be great to add some art too?
More Products
You can prepare such an unforgettable basket instead of presenting to loved ones the coffee you bought from your favorite coffee shop alone. Fill your basket with hot coffees that is a must-have for coldy winter days, great mugs and more...
We have listed the necessary products for delicious coffees for your loved ones. Make a basket with these coffee products you want, and make your friends or family happy. Just grab the coffee and add it to the basket, that's it!
More Products
White, green, black tea, and more... One more idea for making Christmas gift unforgettable! Teas are very healthy, come around diseases, and nourish the soul.
This gift basket includes a rattan basket, natural tea scoops, bamboo cup pads, tea strainers, and traditional tea cups... Inspired by Japanese traditional culture. Fill the basket with such these kind of incredible tea serving products, and add some healty teas for snowy winter days. 
More Products
Candles are one of the best options to double to the atmosphere of your homes, and we also show some handmade macrame coasters for them. We also added a tapestry that can be hung on the wall or used as a decorative covering, and much more...
If you want, present the candles with candle holders, or with adorable macrame coasters. We have added multiple options to choose a perfect gift, you can fill your basket the ones that you want.
More Products
Wonderful home gifts can be created from bathroom sets. You can color it with red ribbon to make it suitable for the Christmas vibe. We have also added a rattan basket, which is one of our best sellers for you. It can be used both as a gift basket, and as a towel storage area for your loved ones that you gift in the future.
We have added creative and very stylish decoration items to make the bathroom fun. Fill the basket with your favorite items, and complete your perfect gift. Don't forget to check out our collections for more product options, and a variety of wall art prints.
More Products
 Vintage Kitchen Gift Basket
How about a vintage look at the Christmas spirit? Another great and very authentic basket idea... You already know your friend to be gifted this kind of basket. We added metal-looking ceramic coffee cups, metal trays, and wall art prints to support the vintage atmosphere in the home.
You are free to fill the basket as you wish! But metallic touches would be great for a vintage and rustic-themed home. Fill the tray with gifts and complete your New Year's gift with a transparent piece of paper and a red ribbon.
More Products
You know it's very easy to make special cocktails now, because there are many tasty cocktail recipes online. Absolutely not if we didn't put it on our Christmas gift list. You can create a gift basket consisting of these products so that your loved ones can make stunning cocktails. Don't forget to add your favorite drink to the basket, and spice it up with little lemons.
A cocktail set and a small but highly functional juicer are the highlights of the list. We also added a few suggestions of glasses and ice cubes to make your gift interesting. Don't forget to add a few metal wall signs to create the ultimate bar atmosphere!
More Products